Tagarchief:
To do or not to do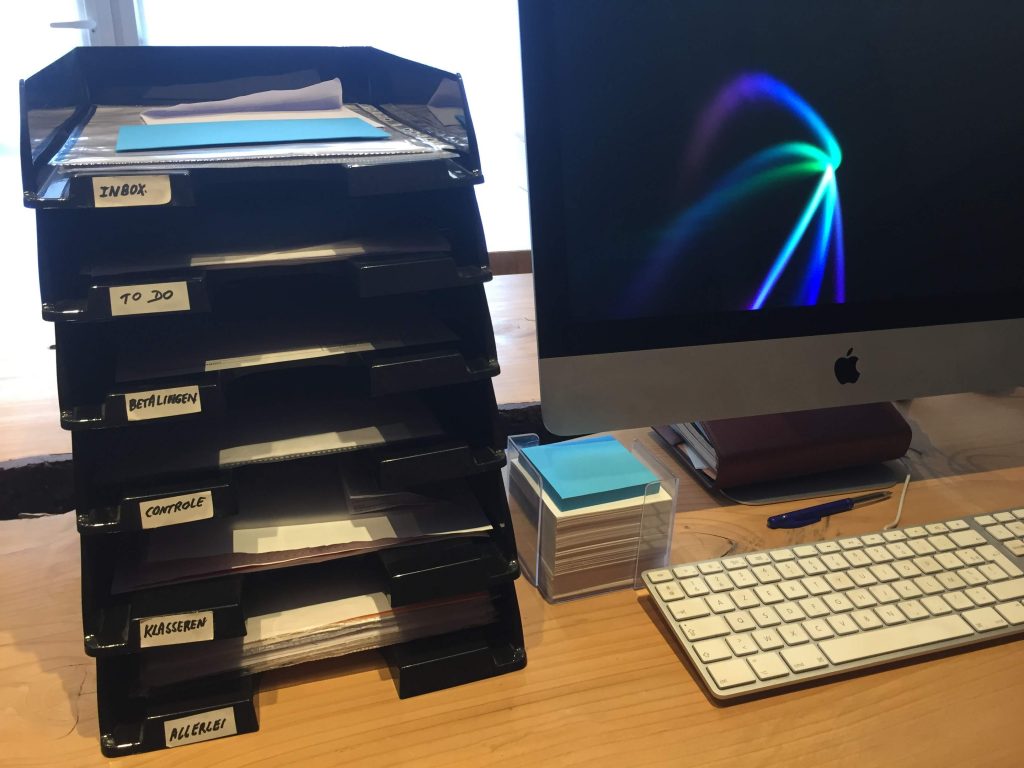 Betalingen, reclamefolders, documenten… Er komt thuis heel wat binnen. Daar loopt het voor velen reeds fout. De papieren worden op elkaar gelegd en vergeten. Daarom heb je een goed en eenvoudig systeem nodig dat je papierwerk overzichtelijk houdt. Het begint met een goed klassement. Op de foto zie je daar een voorbeeld van.
Gooi in de Inbox alle papieren die binnenkomen en belangrijk zijn (betalingen, documenten…) in afwachting om ze nader te bekijken. Alles wat je niet nodig hebt, gooi je rechtstreeks in de vuilnisbak/papierbak.

En dan beginnen! Plan wekelijks één uur in je agenda om aan je administratie te werken.

Je neemt de inbox onder handen. Je legt de papieren in de juiste bakjes. To do (bv. opzoekwerk internet), Betalingen, Controle, Klasseren, Allerlei.
Nu heb je een goed klassement en kan je verder werken. Je verwerkt je betalingen en daarna leg je de facturen in het bakje klassement. Daar moet je nu niet meer denken, het verdwijnt uit je hoofd. Dit brengt rust. Je werkt verder met de andere papieren. Een verkeerd opgemaakte factuur die nog gecontroleerd moet worden leg je in het bakje Controle. Een festivalticket voor binnen 6 maanden (datum reeds in je agenda) leg je bij Allerlei.
Op deze gestructureerde manier werken, brengt rust want je krijg grip op uw administratie. Succes!