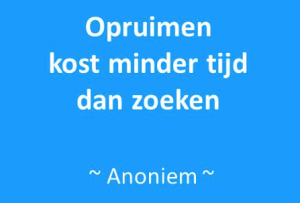 O1:OPRUIMEN
-Begin met één kast of ruimte op te ruimen. Anders houd je geen overzicht.
-Wil niet teveel in één dag. Een 4-tal uren opruimen is meer dan genoeg. Het is intensief werken.
-Wees selectief in dingen houden. Gooi veel weg.
O2:ORDENEN
Als je beslist hebt of je iets wilt houden of wegdoen kan je ordenen. Daarvoor heb je volgende dozen nodig: papier, weggeven, weggooien, twijfelgeval, bijhouden. Je legt je stuk in de juiste doos. Werk verder tot alles in de dozen ligt.
O3:ORGANISEREN
Na ordenen kan je organiseren. Dit doe je met de te bijhouden doos. Broeken hang je bij broeken, bloesen bij bloesen enz. Als je extreem wilt gaan kan je ze ook nog per kleur hangen. Zo hangt je kast in geen tijd op orde.
Opruimen vraagt het meeste werk. Je ziet in het begin niet veel vordering. Zet door! Eens je begint te organiseren gaat heel vlug.
De andere dozen staan nu klaar om weg te brengen, zet ze in de hall en wacht daarmee niet lang. Het zal je een goed gevoel geven.
Veel plezier!